Exercise Physiology
Newcastle Integrated Physiotherapy are able to offer specific gym based exercise programs under the guidance of a fully qualified exercise physiologist in either small group classes or as individual sessions - targeting patients with chronic conditions such as diabetes, arthritis, chronic pain or post-operative care.
What is an Exercise Physiologist?
An Exercise Physiologist is an accredited highly trained health professional who has attended a four (4) year university degree. Their role is integral in providing exercise prescription and education on the benefits of exercise to your condition, to a whole range of population groups including those who suffer with diabetes, chronic muscular conditions, neurological and psychological conditions.
Who do Exercise Physiologist treat? And is it ideal for me?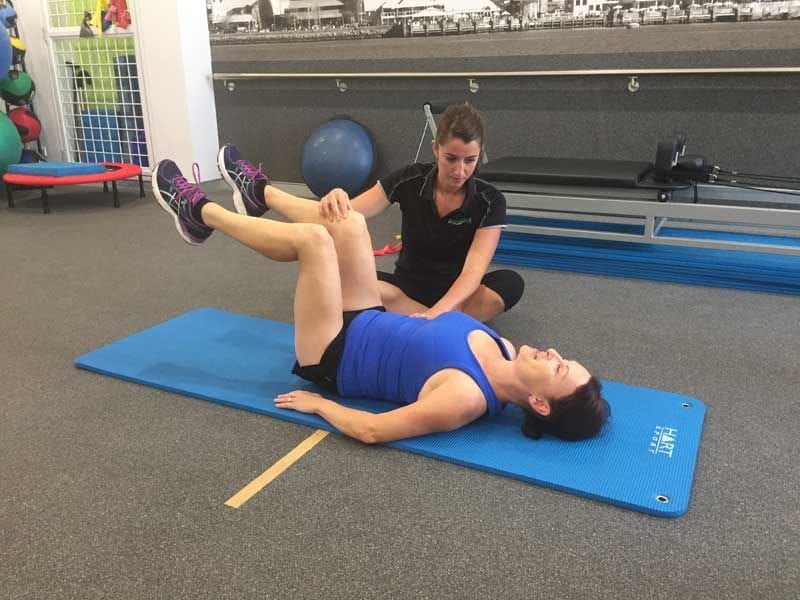 An Exercise Physiologist is ideal for you when all forms of passive (hands on) treatment have been exhausted or ceased and now require either a supervised home, water based or gym program for the rehabilitation of your condition. Additionally Exercise Physiology is ideal for you if your general practitioner or specialist has recommended that exercise would reduce your risk or help manage an existing chronic condition such as diabetes, osteoporosis, heart disease or osteo arthritis. If you wish to improve your fitness level, core strength and general muscle strength, health and wellbeing then Exercise Physiology is also ideal for you. Some of our clients want to take their exercise regime beyond the point reached with a personal trainer, so if that is you then Exercise Physiology is also ideal.

At Newcastle Integrated Physiotherapy we run group exercise and Pilates classes on a weekly basis. Also our Exercise Physiologists Hayley and Libby provide a more personalised one to one service if this is more suited to you. Contact our reception staff to enquire about a class that suits your needs.
Some conditions to be fully rehabilitated will require complex and more challenging balance and proprioceptive (message from your brain to different parts of your body that require high levels of neural control) exercise programs. Sometimes a condition will plateau and not improve as specific components are missing from the rehabilitation process which the Exercise Physiologist will be able to identify, manage and treat, thus progressing the level of your rehabilitation further.
What does an Exercise Physiology Program involve?
An Exercise Physiology program, depending on the level of dysfunction will require either a home based, water based (hydrotherapy) or gym based program. The program will include elements of the five (5) facets of fitness most relevant to you; aerobic, strength, core stability, flexibility and balance. Our Exercise Physiologist will perform an initial assessment to determine a rehabilitation/ fitness program best suited for you. A referral is not required for you to see the Exercise Physiologist. If you have a chronic condition, please speak with your General Practitioner (GP) to organise a Medicare funded program. Contact your health fund provider to determine the level of cover/ rebate you are entitled to.
Call us now for more information or to book an appointment (02) 4957 2961